JACK CONDON: A VISIT WITH THE WORLD'S
LARGEST CHARLIE'S ANGELS COLLECTION
<![if !vml]>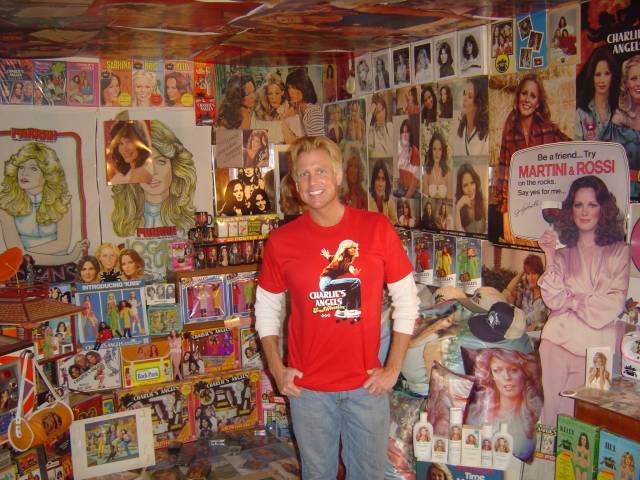 <![endif]>
<![if !vml]>

<![endif]>
Welcome to my web site! This is my opportunity to share with you my collection of CHARLIE'S ANGELS memorabilia! It's a collection that began in 1976, right when the show made its debut. It consists of not only the series itself but all six actresses JACLYN SMITH, CHERYL LADD, KATE JACKSON, FARRAH FAWCETT, SHELLEY HACK, and TANYA ROBERTS and their individual careers! I'm glad I can share this hobby that has given me tremendous fun and memories over the years, and I would love to hear your comments about this site.
I am always looking to buy and trade for my "Charlie's Angels" collection. Check out my WANT LIST and e-mail me if you have anything I may be interested in. Who knows - there may be something out there that I don't even know exists.
<![if !vml]>

<![endif]>
GUINNESS WORLD RECORDS HOLDER!!!
In February, 2007 I was honored to be inducted to the GUINNESS WORLD RECORDS as having the World's Largest "Charlie's Angels" Collection. It is another accomplishment in the decades of collecting I wouldn't have expected to happen. So many people helped me accumulate so many of these items I have acquired over the years, so I would like to take the opportunity to give a big thank you to all who have helped me with this massive collection! I share this GWR honor with you.
Click Here to Take a YOU TUBE  Home Tour of this GUINNESS WORLDS RECORD Holder!
<![if !vml]>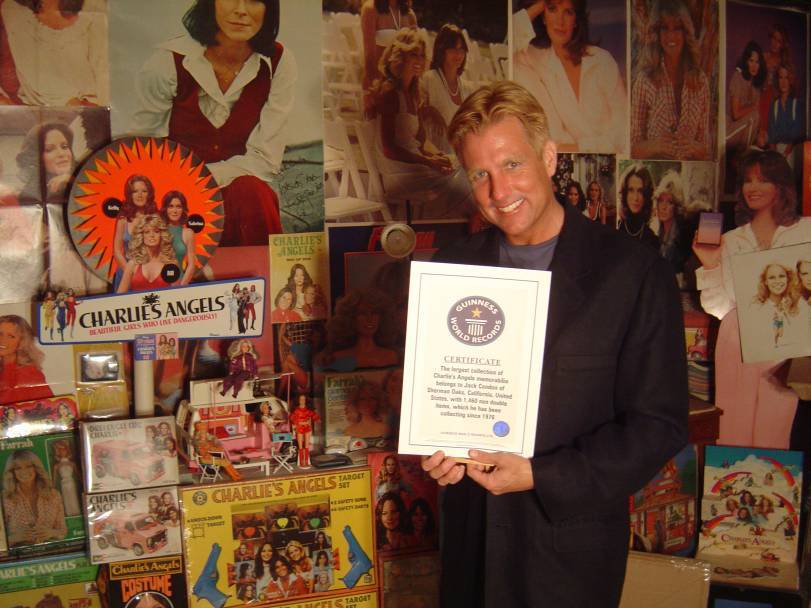 <![endif]>
<![if !vml]>

<![endif]>
The Latest addition to my "Charlie's Angels Collection!"
VAN ANGEL .... A SCENE STEALER IF THERE EVER WAS ONE!
Collecting "Charlie's Angels" memorabilia is one of my fondest memories while growing up. I started the moment the series debuted in 1976, and I was constantly on the look out for toys, photos and magazines. During my birthday in November, 1978 - I received just enough money to hit the newsstand in pursuit of a new magazine with one of the actresses on the cover. I ended up with an issue of Truckin' Magazine from January 1979 with the headline Charlie's Angels Hit the Road! To my surprise, there was a large van manufactured, exactly like the small model replica I had on display at home. The moment I saw this van in the magazine, I thought "what would it be like if I actually owned it"? I wonder, no more...!
Almost 30 years later, I am the owner of this elusive one-of-a kind "Charlie's Angels" Collectible. This is the original "Charlie's Angels" Custom Van, commissioned by Revell Model Kit Company in the late 70's and designed by Rod Powell which became the prototype for their highly successful 1/25 scale model. It's 30 years old, yet still sustains the same impact. Click here for more photos and information.
<![if !vml]>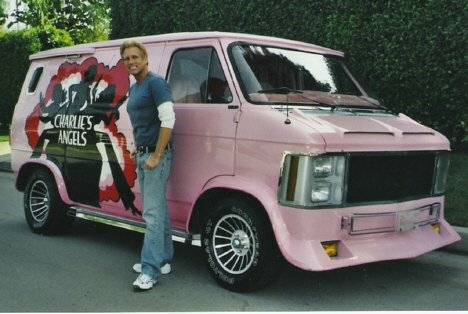 <![endif]>
<![if !vml]>

<![endif]>
Charlie's Angels Casebook
Foreword By Jaclyn Smith
ONLY $14.95 FREE SHIPPING!!!
<![if !vml]>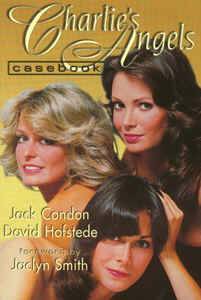 <![endif]>
The Charlie's Angels Casebook EXPLORES THE SUCCESSFUL ABC-TV series ( 1976-1981 ) that made superstars out of Jaclyn Smith, Kate Jackson, Cheryl Ladd, and Farrah Fawcett. Now an exciting new NBC-TV movie starring Christina Chambers, Tricia Helfer and Lauren Stamile, the Charlie's Angels Casebook comes to life on the small screen as it delves into this cultural phenomenon, and its development on women's roles in television history. Loved by viewers and loathed by critics, the impact of the show is still strong to this day. With the revival of this program on DVD, cable, and two feature films based on the original concept, The Charlie's Angels Casebook, takes a fascinating and in depth look into the original series that was considered at the time to have no depth. It contains never before told backstage anecdotes, a comprehensive episode guide, a collectibles guide to Angels' merchandise and dozens of rare photographs from personal collections.
The Charlie's Angels Casebook offers mother lodes of tasty info-nuggests. --------Bruce Fretts, Entertainment Weekly
Click Here To Order - Charlie's Angels Casebook
<![if !vml]>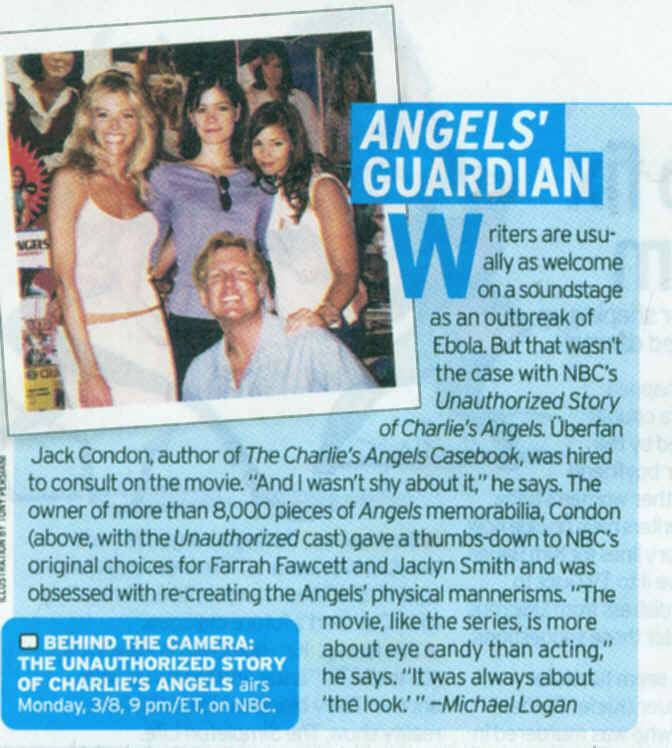 <![endif]>
Jack Condon appears in TV Guide for Charlie's Angels movie
<![if !vml]>

<![endif]>
Charlie's Angels Behind The Camera DVD
ONLY $19.95 FREE SHIPPING!!!
<![if !vml]>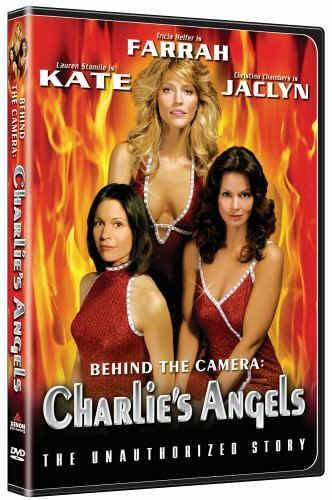 <![endif]>
I am pleased to announce the movie: Behind the Camera: Charlie's Angels NOW Available on DVD, based on the CHARLIE'S ANGELS CASEBOOK. The Casebook was released in 2000. Not soon after came this film, another exciting project for me, where not only is the movie based on the Charlie's Angels Casebook, but I also worked as a consultant on the film, fulfilling a childhood dream. Originally airing on NBC March 8, 2004, if you missed it the first time, or wanted to add this film to your DVD library, now is your chance!
<![if !vml]>

<![endif]>
<![if !vml]>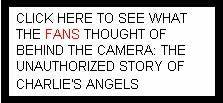 <![endif]> <![if !vml]>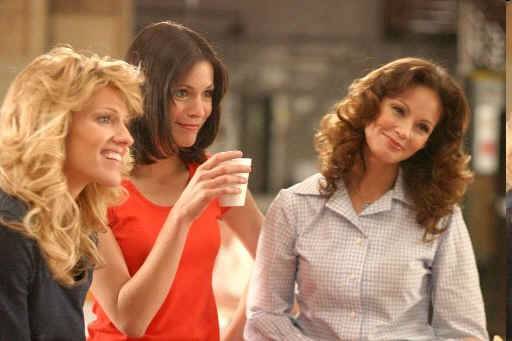 <![endif]> <![if !vml]>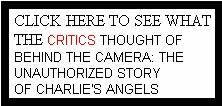 <![endif]>
<![if !vml]>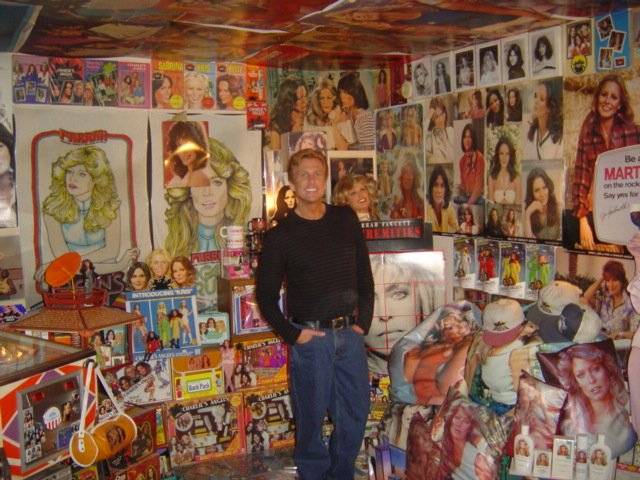 <![endif]>
<![if !vml]>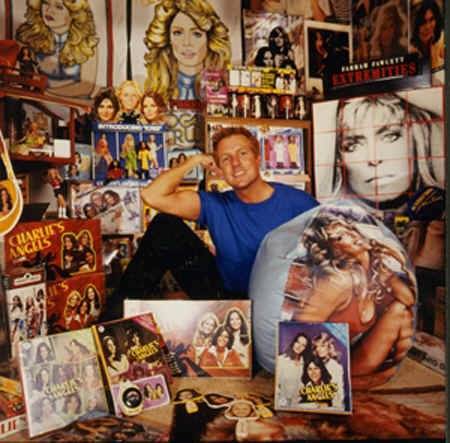 <![endif]>
Links:
Behind The Scenes Photos From "Behind The Camera: The Unauthorized Story Of Charlie's Angels" NBC Movie
Charlie's Angels Casebook Online Customer Reviews
Send me an e-mail at ChrlAngels@aol.com
Or contact me at:
Jack Condon
Post Office Box 57468
Sherman Oaks, CA 91403
Telephone: (818) 789-0862
<![if !vml]>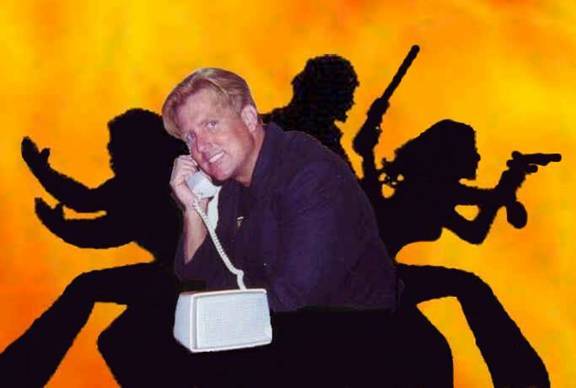 <![endif]>
<![if !vml]>

<![endif]><![if !vml]>

<![endif]>